I am Obie Maurer, the owner and a licensed contractor. As the owner operator, I will return your phone calls promptly. Since I have been a general contractor with extensive home construction background for over 25 years, my 
Sacramento tractor work
 estimates are helpful and educational.
I also maintain a referral list of skilled and trusted Sacramento contractors in cement finishing, heavy construction, landscaping, etc. I begin the tractor work project for you with the most important part, the desired land configuration. Then I can help you find a licensed expert to work on the next stage whether it is a cement contractor for footings I have dug or a landscaper for an area where I removed the sod.

Or if you are a doing a cement project yourself, I will prep the patio or driveway areas for a new one, after I remove the old one.

Because of the economy, affordability is a huge concern of many of my customers as they plan for the perfect front yard or backyard. I have not raised my rates (even with the increased fuel costs), and I continue to work with my customers, offering them ideas to help them save money and time. For example, I get calls frequently for RV pads and have been able to show my clients how to save money and create an attractive RV pad on their property.

In addition, and unlike other Sacramento landscaping experts, I encourage my clients to complete their project in stages, which is more affordable and gives them time to visualize the changes and define the perfect plan.

I know if I do a good job on my end, I will be called back for the next phase or referred to a neighbor down the street. That's how my business has continued to grow even in a tough economy.

One of my longtime customers calls me the "Dirt Doctor", a name I proudly own as I continue to help my customers solve their landscaping problems.

 Call for a free estimate today! (916)709-2537

 License # 406208

Whether you need footings dug for a barn or shed, or dirt moved in your backyard, 

 call the "Dirt Doctor"! 

Tight access (small backyards) and mini-excavation is my specialty.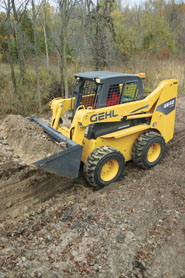 Copyright 2011: Obie's Bobcab Tractor Work and Hauling. Sacramento Contractor. All Rights Reserved. | (916) 709-2537

Landscaping Contractor in Sacramento