"​We bought a house on short sale that had not been lived in for nine months. The backyard was10,000 sq. feet of dead weeds and junk. We were ready to start our landscaping. Obie came out and scraped back all the weeds. Since some of them were over three feet tall, we could actually see the contour of the land for the first time. He sculpted the yard for us creating places for patios, walkways and mounds. Thank you Obie! "  M.Stratton  Lincoln, CA

"Our 1937 Squeeky Williams, Land Park Tudor was a Classic.

However, our broken and cracked driveway took away from the Old World look of our home.   We put up with it far too long. Obie Maurer told us he could make this strong again. From the start, Obie put his heart and experiential track into creating a strong base structure.  Then when we saw the final product we were blown away!  Do not wait - get your driveway done!"

Steve and Wendi Lynn Hechtman  Sacramento, CA 

Other references available upon request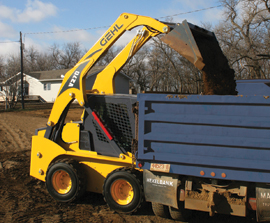 Copyright 2011: Obie's Bobcab Tractor Work and Hauling. Sacramento Contractor. All Rights Reserved. | (916) 709-2537